Please complete and submit the form below to contact us with any questions you may have.
Quinlan Palliative Care
99 Sparta Avenue, Newton NJ 07860
Phone: 973-888-9100


Meet Our Quinlan Palliative Care Specialists: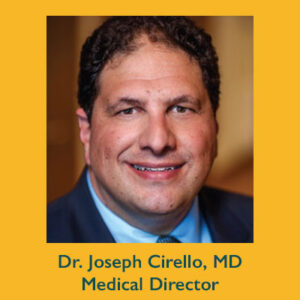 Dr. Cirello has been the Karen Ann Quinlan Hospice Medical Director for the past 10 years.  He is the first Board Certified Hospice Medical Director to hold the position.  As well as operating a family practice office in Milford, PA, with Atlantic Medical Group, he provides direct supervision for patients at the Home for Hospice in Fredon, NJ, Sussex County community patients and Pike, PA, community patients. Most recently he is taking on the role as medical director for the Quinlan Palliative Care program.  This program will provide transitional care for those patients with chronic debilitating illnesses but are not quite ready for hospice.  
From a young age Dr. Cirello knew exactly what he wished to pursue.  He was going to be an Opera singer! In the interim he got a job as a security guard in the Emergency Room at Morristown Memorial Hospital (now Morristown Medical Center) while attending college.  During his time there he got the "medical bug" and began seeking other jobs in the hospital.  Before medical school he had many jobs from phlebotomist to patient representative to patient care technician and cancer researcher.  During that time, he developed a passion for medicine and most of all caring for patients.  Finally, he made the wisest decision of his life and married his wife Lisa.   With her support and the added, joyful package of an 11-month-old son, he attended St. Matthew's School of Medicine in Grand Cayman, British West Indies,  graduating in 2006.   He attended residency in Family Medicine at Overlook Hospital in Summit, NJ (which, incidentally, was where both he and his wife were born).  After Residency he moved to lovely Milford, PA, where he has provided care for his community for the past 13 years.  
He enjoys the beauty of the National Recreation Area in Pike County.  He is an avid hiker and sportsman.  Dr. Cirello feels blessed to be married to Lisa who is a home birth Midwife.  He is most proud of his greatest accomplishments, his three children, John Anthony (21), Elena (17) and Christa (16).  Dr. Cirello is honored to work with those who share the same passion and privilege caring for those with a life limiting illness.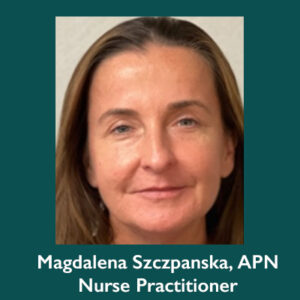 Magdalena Szczepanska is a Nurse Practitioner and her medical specialization is Nurse Practitioner – Adult Health.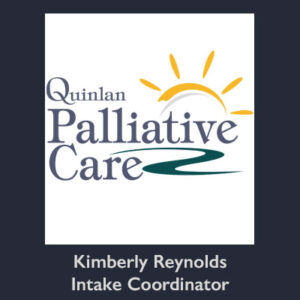 Kim has 10+ years experience working in hospice and oncology/hematology.  She's very excited to be part of the Palliative Care Team, knowing the need in the community for supportive care when facing a serious illness.  She lives in Warren County and spends her free time enjoying the outdoors.
Megan has a bachelor's degree in Family Science and Human Development with a concentration in Gerontology from Montclair State University. She is currently attending Rutgers University for her master's degree in Social Work. She recently got married and bought a house with her husband. They have two cats and a tortoise and are hoping to get a dog soon. In her free time she enjoys spending time outside, doing DIY projects for her new house, and going for walks around the neighborhood. She is very excited to be a part of Quinlan Palliative Care.